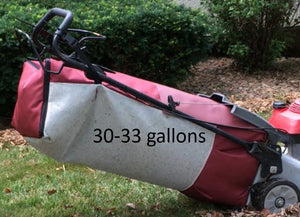 DIY Universal Big Leaf Bag Attachment Version-4 | Abletotech Corporation
 After the success of the three previous models, we introduce the DIY Installation the Mouth of the Universal Big Leaf Bag Version-4. Is this version for you? This version is for you if you use 30 to 33-gallon paper bags or plastic bags. You can install the bag using safety pins for quick installation or upgrade to snap buttons later.
Once the leaf bag is full, release its straps, detach it from the lawnmower, block its mouth, and make it stand. Unzip it and put the paper bag over it, lay it down, and empty its contents into it. This may sound like too many steps, but once you do it, you'll see how fast and easy it is to collect and dispose of leaves and grass.
This V-4 is also a wonderful option for people who enjoy Do-It-Yourself projects. You'll become a fan of the V-4 leaf bag the first time you use it. Each version features the same mouth, but a different body. It offers you the speed and convenience needed to remove every leaf in sight without tiring you out or putting a strain on your back.
*Note:  We offer a deep discount for this version and encourage you to watch our installation video to see a demo before you order the DIY V-4.
DIY Universal Big Leaf Bag Version-4 Features
Install using safety pins or snap buttons
User-friendly design
Use with 30 to 33-gallon paper bags
Cuts cleaning time by half