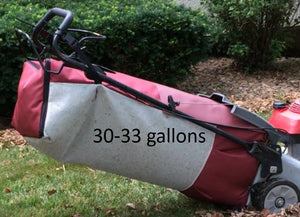 The Big Leaf Bag Attachment Version-4 by Abletotech Corporation
With the Full Snap Button Installation the Mouth of the Universal Big Leaf Bag V-4, installing and cleaning just got easier.  Let us install your DIY V-4 leaf bag! We'll customize the snap buttons, tailoring them to fit the grass catcher frame. When you receive it, it'll take you less than five minutes to attach it to your rear-discharge lawnmower.
We've designed this leaf bag for your convenience because removing hordes of leaves is difficult, but our product makes it simple and quick. This leaf bag is for you if you use 30 to 33-gallon paper bags or plastic bags. If you want to start cleaning your lawn straight away, you need our V-4 leaf bag.
Once you start using it, you'll never go back to ordinary leaf bags ever again. It's a guarantee that you'll be impressed the first time you use our advanced leaf bag. Our leaf bag will change the way you clean forever. Order it right away!
*Note:  The leaf bag costs more than the DIY V-4 because we've added our labor costs for installing the snap buttons.
Directions: Upload the metal frame with measurements of your lawn bag. This will allow us to create snap buttons that fit your metal frame perfectly.
Universal Big Leaf Bag V-4 Features
Bespoke complete snap button installation
Can hold 30 to 33 gallons of leaves and grass
Easy to use
Takes less than 5 minutes to install on lawnmower