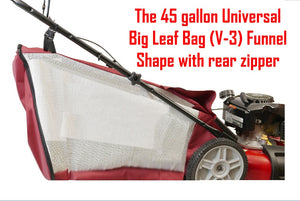 The Big Leaf Bag Attachment Version-3 by Abletotech Corporation
 We will install snap buttons to your Big Leaf Bag attachment V-3 for your particular metal frame.
We'll customize the leaf bag V-3 to fit your grass catcher frame and deliver you the complete solution.
When you receive your order and attach the leaf bag on your rear-discharge lawnmower, you won't run into any technical difficulties, because it'll take you just under five minutes to attach it. Its user-friendly features include its funnel design with a rear zipper for easy opening to deposit the leaves and grass into a 45-gallon plastic bag.
Say 'no' to installing and 'yes' to saving time by getting this leaf bag for leaf and grass removal. Don't wait any longer but order our Full Snap Button Installation the Mouth of the Universal Big Leaf Bag attachment V-3 quickly!
*Note:  The leaf bag costs more than the DIY V-3 because we've added our labor costs for installing the snap buttons.
Directions:  Upload the metal frame with measurements of your lawn bag. This will allow us to create snap buttons that fit your metal frame perfectly.
Universal Big Leaf Bag V-3 Features
Customized full snap button installation for grass catcher frames
Install it in less than 5 minutes
Capacity to hold 45 gallons of waste
Easy to use
You have to consider that there are so many different kinds of metal frames out there(hundreds of them) that shape differently and here just are nine metal frames of them:

 
Your particular metal frame might be one of these or different from these nine.  We include three examples below for you to have some ideas to get your particular metal frame's picture and measurements for us.  You can relax and we will do all the steps to make the snap buttons fit for your metal frame:
When you proceed to the checkout, you enter:
1) The make of your brand

2) The Model number
3) Upload your particular metal frame's picture with measurements  or send us extra picture to support@abletotech.com so we can accurately complete all the snap buttons for you.